Profile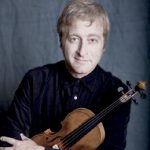 Federico AGOSTINI  (Violin, Chamber Music)
renowned as a soloist, chamber musician and teacher, was born in Trieste, Italy. He has performed throughout the world as a recitalist, soloist with orchestra, and as leader of the legendary Italian ensemble I Musici in important concert venues like the Berlin Philharmonie, Amsterdam Concertgebouw, Vienna Musikverein, New York's Avery Fisher Hall, Tokyo's Suntory Hall and many others.
Agostini has also appeared in various international music festivals in Europe, the United States and Japan. He has performed chamber music with many well-known, distinguished artists, including violinists Jaime Laredo and Joseph Silverstein, violists Bruno Giuranna and Mazumi Tanamura, cellists Janos Starker, Tsuyoshi Tsutsumi, Ko Iwasaki, Sadao Harada and Antonio Meneses, as well as with members of the American, Emerson, Fine Arts, Tokyo and Guarneri quartets.
Together with violinist Yosuke Kawasaki (currently concertmaster of National Arts Centre Orchestra, Ottawa), James Creitz (former violist of the Academica Quartet) and Sadao Harada (former cellist and founder of the Tokyo String Quartet), Federico Agostini founded the D'Amici String Quartet. Agostini's Philips recordings with I Musici comprise Bach's and many Vivaldi's violin concertos, including the Four Seasons, also filmed on location in Venice and available on DVD.
Other recordings include Fauré's Piano Quartets (Claves) and an Hommage à Nathan Milstein, a selection of favorite virtuoso violin pieces (Live Notes, Japan) partnered by pianist Yasuo Watanabe. Mr. Agostini maintains a very busy schedule as a teacher.
Currently a Professor of Violin at the Eastman School of Music in Rochester, NY (USA), he was earlier on the faculties of the Conservatories of Venice and Trieste (Italy), the Staatliche Hochschule für Musik in Trossingen (Germany), and at Indiana University's Jacobs School of Music in Bloomington, (USA) During the academic year 2016-17, Mr. Agostini was a Guest Professor of the Tokyo Geidai University of Arts and Music.
His teaching activities include master classes at music universities in the United States, Canada, Mexico, Chile, as well as at institutions in Japan, Italy, Germany, Denmark, Sweden, and Australia.
Asako YOSHIKAWA  (Violin, Chamber Music)
A native of Ichikawa, Chiba, Asako commenced her violin studies at an early age and entered the TOHO GAKUEN MUSIC HIGH SCHOOL & UNIVERSITY to study under S.Sumi.
Upon Graduation, further Master course studies were undertaken at the ACCADEMIA SANTA CECILIA in Rome, Italy, where her principal teachers were the famed PINA CARMIRELLI, HENRYK SCHERING, and Maestro BRENGOLA. It was after her Graduation at Santa Cecilia, where Asako was awarded full marks and the winner of the HONER Prize, that her career as a concert soloist commenced under Maestro Peter Maag at La Fenice Opera House in Venice. Since then, Ms. Yoshikawa has appeared throughout the world including major venues in Europe, USA, and of course in her native Japan.
Upon her eventual return to Tokyo, Asako was invited to be Concert Mistress of the TOKYO SOLOISTEN, and performed on numerous occasions for the NHK, and was in great demand as a Chamber Music player, for both classical and contemporary composition ensembles.
Her devoted interest in teaching and the musical education of young artists, has led to many of the students appearing at major international music competitions where important prizes have been won at the Long-Thibaud, Osaka International, and many other prestigious events. A number of her students have appeared in recital at CARNEGIE HALL, in New York, while others hold orchestral positions in Europe, including Berlin and London, and Japan.
Ms. Yoshikawa is currently Artistic Director for the TATESHINA MUSIC FESTIVAL in Japan, in addition to holding the position as Executive committee chairperson for the CECILIA TOKYO INTERNATIONALMUSIC COMPETITION.
Asako is invited in many summer festivals and master class, Piediluco(Italy), Monte Fiascone (Italy), Moulin D' Ande (France)etc.
Recordings of Asako Yoshikawa can be heard on CDs as a member of the TRIO AMATI, with the Duo Pepicelli, and with FEDERICO AGOSTINI, ex Concert Master I MUSlCl, on DUO SERENADE.
Ms. YOSHIKAWA plays an ANDREA GUARNERIUS violin of 1670.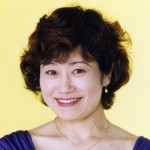 Yuki Hyakutake (Viola)
Graduate from Tokyo Geijutu Daigaku and finished its Graduate course.
Studied under Fumiki Asazuma, William Primrose, Serju Collo.
Until 1999, chief player of Tokyo Metropolitan Symphony Orchestra and active as player of solo and chamber music.
Professor of Aichi Prefectural Univ. of Arts. At present Lecturer at Tokyo Geijutu Daigaku and Tokyo College of Music of Tokyo.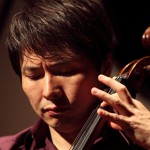 Susumu MIYAKE (Cello)
Susumu Miyake has been a solo cellist of Sendai Philharmonic Orchestra since 2012.
He is also teaching at Musashino Music College both cello and orchestra.
After graduated famous Toho school of Music with special honor, he went to the United States to pursuit his music and entered Indiana University school music.
He studied two years as a artist diploma course student under famous distinguished cellist, Janos Starker 's direction.
As a solist, he gave recitals in Europe, United States, Asia. played concerto with Sendai Philharmonic, Gunma symphony, National Taiwan Symphony and Nordic Ensemble.
He played with great musicians such as Joseph Hala, Nobuko Imai, Federico Agostini , Yuzuko Horigome, And appears in many international music festivals.
He is an music director of chamber music series named Music From PaToNa in Sendai.
And recieved 4th Vienna Philharmonic and Suntory Music Award.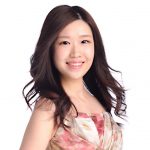 Mayu MIYAKE (Camp Assistant, Assistant Pianist)
Graduated from Tokyo College of Music. She won the Silver Award at the 31st and 34th Aichi Piano Competition in piano duo division.
She passed the 33rd Classical Music Audition and performed at the freshmen's concert. She is currently a member of Itabashi-ku Musicians' Association.